Je kunt heel gezond eten en veel bewegen, maar energetisch een afvalbak zijn waar iedereen energie in dumpt. Wanneer mensen het hebben over 'werken aan hun gezondheid' dan hebben ze het vaak over gezond eten en bewegen t.b.v. de gesteldheid van hun fysiek lichaam. Je energiesysteem bestaat echter uit meerdere lichamen, chakra's, aura en energieveld wat samen één geheel vormt.
Energiedump?
Ontladen van energie is essentieel om je te ontdoen van overbodige energie. Om de opgebouwde spanning van je af te gooien. Iedereen doet dit. Dit kan op een gezonde manier, bijvoorbeeld met lachen, wandelen of muziek maken. Maar ook op een ongezonde manier, door energie te dumpen bij de ander. Kinderen wordt al van jongs af aan aangeleerd dat het beter is om de energie achter negatieve emoties te onderdrukken. Niet schreeuwen, niet slaan, stop met huilen, doe eens niet zo druk. Daarmee wordt gedrag aangeleerd dat sociaal wenselijk is, maar waarmee de energie achter emoties aanwezig blijft. En deze energie moet er toch uit. Onbewust wordt het dumpen van energie bij anderen een methode om het kwijt te raken.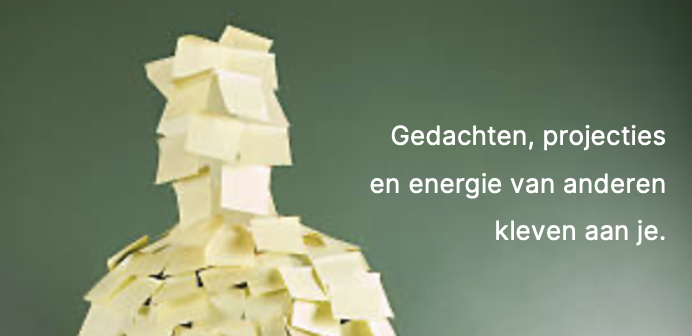 Energetische afvalbak?
Gedurende de hele dag zijn er mensen die onbewust energie bij je dumpen. Ze storten letterlijk hun verhaal over je heen. Zij zijn het kwijt, maar jij zit ermee. Door dit dumpen van energie raakt je systeem beschadigd of vervuild. Dit uit zich in lichamelijke klachten, zoals hoofd­pijn, geen of juist teveel energie, of dat er continu van alles misgaat in je leven. Daarom is het belangrijk om jouw ener­giesysteem af te schermen en doorlopend te ontladen zodat je alleen jouw levenslessen uitwerkt en niet die van een ander.
Energieveld afschermen
Door je energieveld af te schermen voorkom je dat je een afvalbak bent waar iedereen in kan lozen. Je beschermt jezelf zodat er geen nieuwe gedachten, projecties en energie van anderen in je systeem terechtkomt. Je schermt jouw energieveld (incl. aura en chakra's) af met de hiervoor ontwikkelde oefening.
De kracht van de oefening om je energieveld te beschermen, kun je vergelijken met de gele band van judo. Het beschermt je in de basis, maar houdt niet alles tegen. Wil je gevorderd of zelfs vergevorderd worden? Volg dan het 'programma Wie ben ik'. Daarnaast zorgt de bescherming ervoor dat er geen nieuwe gedachten, projecties en energie van anderen bijkomen. Alle energie die niet van jou is en die tijdens je leven in je energiesysteem terecht is gekomen, kun je weghalen of neutraliseren met een healing. Speciaal hiervoor hebben we de online sessies, incl. healing Spanning loslaten and Projecties vanuit maatschappij verminderen.