Book full of insights, exercises and tips that will help you learn to shield yourself from stimuli and energy from others. Come into your own power.
You come to Earth with unique programming and your own set of guides. This enables you to achieve your life goals. However, you also bring with you baggage from other lives: karma. How you arrange your life here on Earth is up to you. You have a bandwidth of life paths, the path of enlightenment or the path of suffering. Everything you experience, all the relationships you have and everything you receive is energy and affects your energy system. The more outside energy enters your system, the more it sticks to you and the further removed you become from yourself. To come back to yourself and get more out of yourself, you have to go to the core; your focal point. This is a point of concentrated power: this is your being. From your being you have access to everything you need. But how do you get to that point?
"I think of it as my First Aid for Internal Unrest. The book has given me many insights about my inner self. It teaches you how to deal with your energy and outside influences. It is full of exercises that help you experience Inner peace."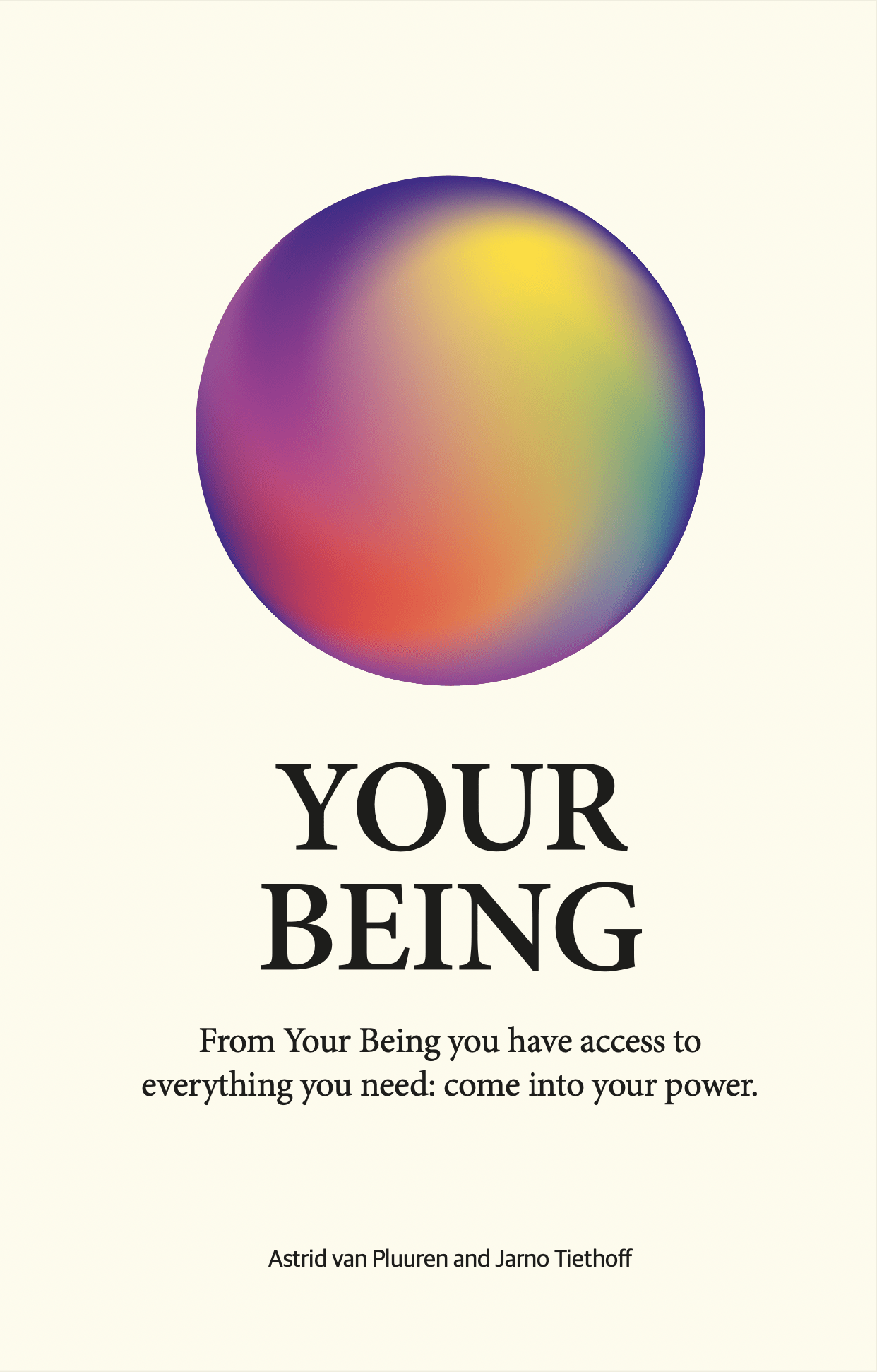 Spiritual book Your Being
This book:
provides insight into all layers of your energy system, what influences it and how you can influence it. Both energetically and practically.
contains exercises to get rid of energy that is not yours and to shield your energy field.
is full of tips on how to raise your energy system to a higher frequency.
This book is currently being translated into English. The expected release date is spring 2024.
Energy System
Bodies

Grounding
Charging and discharging physical body

Twelve main chakras
Aura
Defense system: immune system and energy system
Energy Field
2. What you come to earth with
Your unique programming
Karma
Your guides
Resource: metaphysical laws
External and internal sensing
3. Transformation of energy
Everything is energy and has a consciousness
Relationships, encounters and experiences

Relationship with your family
Relationship with your work

Energy that you physically put into your body

Nutrition
Medicine, alcohol and drugs
Cosmetics

Energy you live in

Trees and plants
Natural and precious stones
Energy in your bedroom
Vibration frequency of networks
This book is currently being translated into English. The expected release date is spring 2024. 
"Great book, read many such books, but this is one of the better ones 👌✔️"
"Completely loved this little book ❤️ I ordered it last week. Received it very quickly. I cannot let it go. This is the most interesting little book I have already bought. I really feel I need to do something with it."
"Book arrived today 🥰🤗 lots of practical exercises and clear highly recommended ❤ strange but true I feel a lot of energy flowing through my body."
The book consists of 120 pages full of short and concise paragraphs that clearly describe the essentials, quotes that make you think and exercises to get started yourself. In short, Je zijn is a compact book with a huge amount of knowledge and information.
In the media: from a review for inclusion in the library's collection to podcasts. Various media and blogs have covered the book Je zijn. Read more
"How do I come into my power? Life's quest perhaps, but if you read this book then the end of the search seems in sight. I have read it and this book demands to be reread, practiced and so indeed find access to what is needed. An instructive book that works through and gives much food for thought!"
The book "Being You" made me realize again how much I do on autopilot and that I am responsible for the happiness in my life. 'Your Being' increases your self-knowledge, is incredibly informative and gives much food for thought. 
"This book really works! Through all the insights and exercises, my life has gained momentum. I feel like a different person."
Do you feel wobbly, is every day a surprise how you will fare? Come (closer) to yourself and into your power by reading this book. Experience healing and gain insights purely through reading, at your own pace. The book gives you tools and is truly a gift to yourself!
What is your energetic system and how do you rid yourself of energy that is not yours? What unique programming did you come to earth with? The authors Van Pluuren and Tiethoff wrote this book based on healing and gaining insight into who you are. About grounding, external and internal sensing, guides, various types of relationships, nutrition, medicines and cosmetics, metaphysical laws, vibrational frequencies and much more. With introduction and an index of the fifteen exercises plus mention of other websites and book tips. Without fuss and to the point, for those who want to get started with energetic systems right away. A handy, pleasantly readable, self-published book. Reviewer: Marianne Jans Ndb Biblion (for inclusion in library collection)